Laura F. Teisch, MD, F.A.A.P.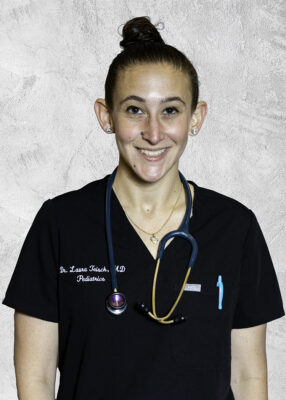 Dr. Laura F. Teisch received her Bachelor of Science from the University of Florida. Her Doctor of Medicine at the University of Miami Miller School of Medicine. Dr. Teisch did her residency at the University of Nevada Las Vegas School of Medicine.  Dr. Teisch joined St. Rose Pediatrics in November 2019. Dr. Teisch is Board Certified. 
Outside of work, Dr. Teisch enjoys spending time with her husband, their son, and the remainder of her big family including her parents, her siblings, and all of her nieces and nephews. Her hobbies include exercising, traveling, and participating in outdoor activities especially hiking. In her spare time, she loves to combine her passion for travel and hiking. In her adventures, she has been fortunate enough to see the work atop of many summits including Mt. Kilimanjaro(Tanzania), Everest Base Camp (Nepal), Tongariro Alpine Crossing and the Grand Traverse (new Zealand), the Four Peaks (Iceland), Ben Nevis(Scotland) and more! Now that Dr. Teisch and her husband have a son, they look forward to taking him on their future adventures.